To enquire about becoming a sponsor, please contact me
here
Sanderson Cycles are designed and developed it the UK. Manufactured to the highest standards using only top quality materials. Their aim is to offer what they feel is missing in the high end market today, traditional styled Cro-mo Frames with up to the minute geometry and handling, finished off with some simple yet stylish touches that set Sanderson frames apart from the rest.
Sanderson kindly provided me with a steel  'Breath' frame - check out these links:
The Rohloff SPEEDHUB 500/14 has been developed for both pros and performance oriented hobby cyclists who can appreciate it because of its reliability, perfect single gear ratios, wide range of gears, low maintenance and easy operation; its weight and efficiency are ideal even for pro racing.
Rohloff kindly provided me with a fantastic Rohloff Speedhub and loads of support on the road - see these links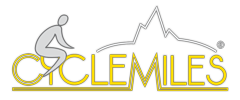 CycleMiles is quite possibly the largest store in the world specialising in "Gifts for cyclists". If you are stuck for ideas, for what to buy the cyclist in your life, CycleMiles can definitely help. With over 1000 different cycling related gifts: books (mine), art, bags, accessories, 
homeware, 
jewellery, stationery, bike polo, jerseys, monkiis, cycle tools and over 300 greeting cards with bicycles on them, you should be able to find a gift, wrapping paper and a card too.
CycleMiles is the European importer and distributor of the T2 lightweight (3.6kgs) single-wheel bicycle trailer and the monkii system bottle cages and frame bags, made for bike packing, touring and adventure cycling. 
The SP-800Z ultra-zoom camera features a 30x optical zoom, while being compact and lightweight. It is highly versatile and is able to take high-quality photographs in different situations without having to change lenses. It was the perfect camera for my trip; lightweight, with a good battery life and very capable in every situation
.
Olympus kindly provided me with a SP-800Z camera - see these links
Dazer produce an ultrasonic dog deterrent, which releases pulses of sound waves at high frequency, This sound can not be heard by humans but causes discomfort to dogs without harming them. Dazer has been proven to be the most effective dog deterrent available and works at distances up to 15 feet.
Dazer kindly provided me with a ultranic dog deterrent - see these links
Sea France were the only French operator on the Dover - Calais route and carry more than 3,500,000 passengers a year. They were one of the cheapest and most popular operators, and kindly agreed to provide me with a free ferry crossing to Calais. Sea France no longer operate.